Group Classes
Group classes are a great way to teach your dog basic obedience in a public setting, around other dogs and people. Our group classes train the following commands: name recognition, sit, down, touch, watch me, spot-stay, leave it, drop it, heel (and general loose-leash walking). The classes are held at Dirty Dog Salon off of River Road (914 Joliet St), where we have a wonderful space to work in!
6 hour long, weekly classes for $180
Consultations
Consultations are meant to identify the main issues you want to address, to determine the root causes of problem behaviors, and to outline a plan for improvement. Consultations normally take around an hour, but can sometimes last up to 90 minutes depending on circumstances. During the process, your trainer will be asking a long list of questions in order to get a complete picture of all the variables affecting your dogs behavior and learning process. Please note, consultations are only necessary in more serious cases, such as aggression. For basic obedience issues, you may start with a normal private lesson.


In-person Consultations are $150

Private Lessons (Coaching)
Private lessons are a great way to learn how the training process works, and the best solution for those who want to train their dogs themselves. During each lesson, the trainer will first demonstrate the proper training technique with your dog. Once the technique is understood, the owner performs the training technique in front of the trainer. The trainer gives tips, ensures the concept is correctly understood, and addresses any troubleshooting issues that may arise. Private coaching lessons lead to an increased bond, greater understanding, and better communication between dogs and their humans. Sometimes the learning process is a bit slower with coaching, as the owner and the dog both have a learning process to go through. Private coaching lessons are a great way to reduce or eliminate problem behaviors (jumping, barking, digging, chewing, accidents in the house, etc), teach your dog new skills (staying on a place-bed, crate training, tricks like beer me), and to acquire a better understanding of how your dog thinks while strengthening your relationship.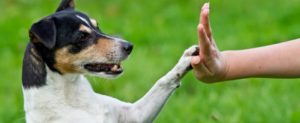 Private Lessons are $110 for a single 1  hour lesson.
A package of three runs $300 ($30 savings)
A package of six is $550 ($110 savings).
In-Home Day Training
Day-training involves the trainer coming to your home and training your dog for you while you are at work. Day-training is a great option for those without the available time to train their dogs themselves. An advantage of day-training is that the dog's behavior often improves at a quicker pace. Think of your trainer as an auto-mechanic. It would take your auto-mechanic significantly longer to fix your car if he/she were to teach you exactly what they were doing, and have you do it with them, along the way. Of course, as with auto repair, maintenance is always extremely important in dog-training for results to have a lasting effect. As such, each day-training package comes with a final lesson in which the owner is present in order to learn how to maintain the training, as well as an additional follow-up lesson to address any troubleshooting issues that may arise.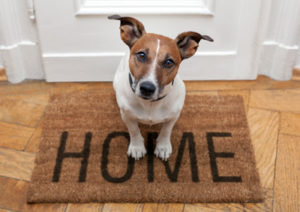 1 week of twice daily visits: $600 (includes 2  follow-up lessons)
2 weeks of twice daily visits: $1,100 (includes 2 follow-up lessons)
3 weeks of twice daily visit: $1,500 (includes 2 follow-up lessons)
Board and Train (limited availability)
Board and train refers to the trainer boarding your dog at his/her house and training them for you. Imagine dropping your new (or old) completely untrained dog off for 2 weeks, and finding a fully obedient dog upon your return! Board and train is often the fastest of all methods, as the trainer will be able to ensure your dog's training is consistent, and spread through many short sessions throughout the day (which is ideal). As with all dog-training, maintenance is extremely important for lasting results. As such, all board and train packages include a take home lesson, as well as an additional follow-up lesson to address potential troubleshooting issues that may arise.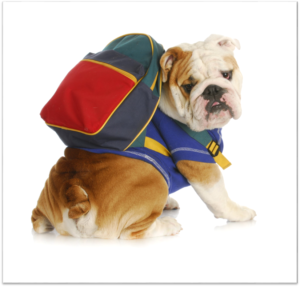 1 week: $850 (includes take home and follow-up lessons)
2 weeks: $1,450 (includes take home and follow-up lessons)
3 weeks: $2,000 (includes take home and follow-up lessons)
Puppy Socialization and Obedience
Give your pup the best chance possible to grow up confident, friendly, happy and healthy with our Puppy Socialization and Obedience package! The package includes 3 lessons that cover the best ways to introduce your pup to new things, including new types of dogs, people, surfaces, and environments. The first lesson is meant to lay out a training plan for you and your pup that you can use as a base. The second lesson involves meeting and playing with other pups, and teaches the best ways to ensure good play and good interactions with other dogs. The final lesson is reserved for any particular issues you would like extra help with (crate training, house-training, loose-leash walking, off-leash obedience, etc).
3 lessons for $240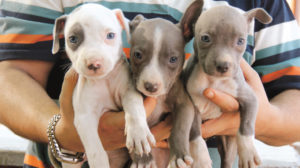 Walk and Train
Having trouble enjoying walks while your dog pulls you around the neighborhood, ignoring your every command? Walking on a leash is not a skill dogs naturally come with, and many need training to understand what is appropriate on leash behavior and what is inappropriate. Clear communication is key, and many times people inadvertently encourage their dog to pull by pulling back. Sign up for a week of daytime walks with K9 State of Mind and we will teach your dog to follow the lead of the walker. The package ends with a take-home lesson, where you will learn how to give your dog clear communication on walks in order to maintain a pleasant, loose-leash walking experience!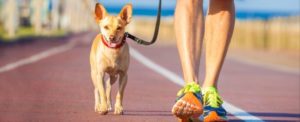 One week of daily 45-60 minute walks (includes follow-up lesson): $280
Therapy Dog Training
Think your dog has what it takes to cheer up hospital patients, nursing home residents, people with depression or PTSD, and children with anxiety? Sign up for a 3-pack of classes with K9 State of Mind to prepare your dog to help those in need! Therapy dogs can be any breed, so long as they can remain calm and loving in a variety of environments and situations.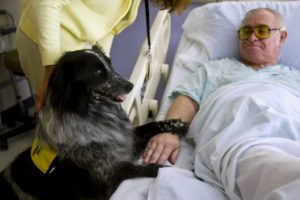 5 Pack of Therapy Prep Classes: $475
Specialty Trick Training
Would you like your dog to bow, waive, sit-pretty, roll-over, play dead and more on command? Interested in creating a dance routine with your dog? Want your pup to fetch you a beer from the fridge? Sign up for a Specialty Trick Training program with K9 State of Mind and see what your dog is really capable of!
Prices and length vary